Our Bat Hospitals are finally getting flight cages!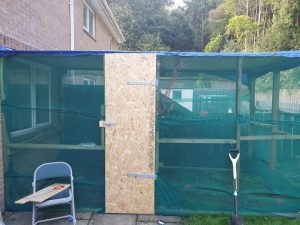 Some of our bat carers may have been rescuing and rehabilitating bats since the 1980's and creating bat hospitals in their homes but now in 2020 we can finally say we have flight cages – hooray! We are delighted with the final product. This flight cage will make it easier for carers to monitor flight, train orphaned pups to fly and feed on their own and provide enrichment for long term patients.
Pictured here is our North West flight cage and over the winter months we will be adding enrichment and decorating before the next batch of rescues come in 🦇🦇🦇
Our bat hospitals in County Down, North Coast and Belfast will get their flight cages put up during the winter months so watch this space.
Thanks so much to Kevin at KH Joinery for all his hard work! #LoveBats #BatCare #BatRescue #BatRehabilitation #Bats